Not long ago, I was in my kitchen wrapping up meal leftovers when my roommate gave out a call of judgement. "What are you doing? You cannot use the plastic!" My hand froze in the midst of pulling the large piece of Saran cover. "What else am I supposed to use to protect my porridge?" I asked her. My roommate responded with, "Think of the turtles!" and started to list all the reasons why I should not use plastic wrap or any other single-use plastic.
What is a plastic food wrap? A plastic food wrap is a "thin plastic film typically used for sealing food items in containers to keep them fresh over a longer period of time. Plastic wrap, typically sold on rolls in boxes with a cutting edge, clings to many smooth surfaces and can thus remain tight over the opening of a container without adhesive." (Wikipedia)
Solid wrap, hanging film, shrink wrapping, saran sandwich, hanging wrapper, or food wrapper is the thin plastic film that is used for sealing food items in containers to make them fresh for a longer time period. Plastic wrap is typically sold on rolls in boxes with the cutting edge for ease of consumer usage. The plastic wrap works by clinging onto any smooth surface. This feature makes the wrap an ideal fit to any container regardless of size or shape. The common solid wrap is about 0.0005 inch or 12.7 micrometer thick. This thin design was done on purpose to suit more home usage.
Why are saran wraps regarded as the best? Saran wraps are a kind of plastic food film that are widely used and are the most popular. What is Saran wrap made of? "Saran works by polymerizing vinylide chloride with monomers such as acrylic esters and unsaturated carboxyl groups to form long chains of vinylidene chloride. The copolymerization results in a film with molecules bound so tightly together that very little gas or water can get through. The result is an effective barrier against oxygen, moisture, chemicals and heat that protects food, consumer products and industrial products. PVDC is resistant to oxygen, water, acids, bases and solvents." (ThoughtCo)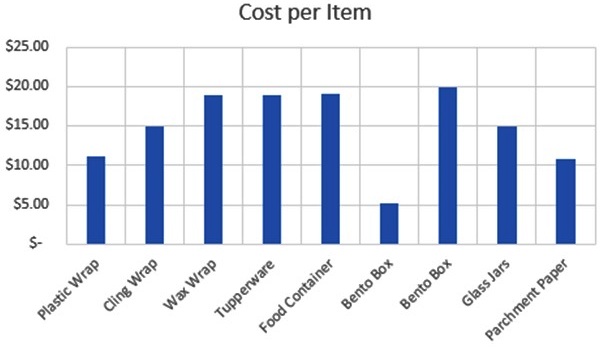 When comparing different food wraps, there are certain factors to consider such as benefits, cost, and practicality. Saran plastic wrap, cling wrap, Beeswax wrap, Rubbermaid Tupperware, Pyrex food container, Walmart Bento Box, Impactful Vegan Bento Box, Home Depot Glass Jars, and Regency Parchment Paper each have their own pros and cons. So, I decided to weigh the aforementioned benefits to find the best option. The Walmart Bento Box, being the cheapest amongst all at $5.12, comes with other benefits such as being stackable, microwaveable, stainless steel, portable, and insulated. While a more expensive option, like the Impactful Vegan Bento Box at $19.99, is only 4-layered and stainless steel. Between the wraps, quality was consistent to cost, with the more expensive Beeswax wrap having the most benefits coming in a large 3-pack that is reusable and washable.
Single use plastic food wraps are the cheaper option, but if you really want to save money then you better start investing in reusable food wraps or containers. While the single use plastic food wrap is cheaper at the moment, that cost will eventually add up over time. Whereas the reusable food containers and alternative food wraps have multiple usages and are a one cost purchase.
So my challenge for you is to try changing out any plastic food containers with glass containers or an alternative food wrapper such as beeswax paper. Glass or ceramic containers are usually good and can be used more than once. These containers are also relatively easy to clean. Nowadays, the number of plastic-free and plant-based products are ready to keep anything from liquids to cooked food fresher with less of a guilty conscience that you are contributing to the death of our beloved planet.
References
https://en.wikipedia.org/wiki/Plastic_wrap
https://www.kickstarter.com/projects/foodwrap/food-wrap-reusable-cling-wrap
https://www.beeswrap.com/
https://treadingmyownpath.com/2017/06/22/7-plastic-free-alternatives-to-food-wrap/https://earth911.com/home-garden/4-food-wrap-alternatives/
https://www.nationalgeographic.com/environment/2019/07/story-of-plastic-sticky-problem-of-plastic-wrap/
https://www.thoughtco.com/history-of-pvdc-4070927