Snack food packaging has become more popular in recent years due to consumers' on-the-go lifestyles. Consumers are likely to buy a snack food depending on its size, design, portability, and other components. One main reason why the snack industry has grown so much is because consumers prefer a single serving snack that is convenient and meets the needs of the typical on-the-go lifestyle. According to Statista, "snacking is a booming $100+ billion business in the United States, with the average person in the US spending $303 yearly on snack foods and consuming 34.6 kg of snacks every year" (vikingmasek). There are also many different materials and packaging methods used to package snack foods.
According to Packaging Digest, there are four design trends that are leaving an impact on the snack industry. They are minimalism, atypical designs, nude color palettes, and plastic-free. Have you ever heard the phrase, "Less is more"? Well, this phrase holds truth in terms of minimalism packaging, especially in the snack industry, because it allows a consumer to have a better understanding of what is in the product he or she is buying. Atypical designs, along with simplistic color patterns such as a nude color palette, have also improved the snack food packaging industry and market. Consumers are more likely to buy a product that has a simple, yet unique design that is made from sustainable material.
Flexible packaging is the best method and format for packaging a variety of snack foods. Flexible packaging is a lightweight bag or pouch that can be sealed with heat or pressure. A study done by Freedonia group found that a demand for pouches used in snack food packaging will potentially increase 3.8% annually through 2022 to $3.4 billion (epac). Consumers want a snack that they can reseal to keep the food item fresh. Flexible packaging provides bags that have multiple features and functions to meet a consumer's wants of a convenient eating habit. Flexible packaging also catches a consumer's attention more than a rigid package due to how simple and minimalistic stand-up pouches are than rigid packages like boxes and glass. Flexible packaging is also easier to use and a cheaper alternative than rigid and other forms of packaging.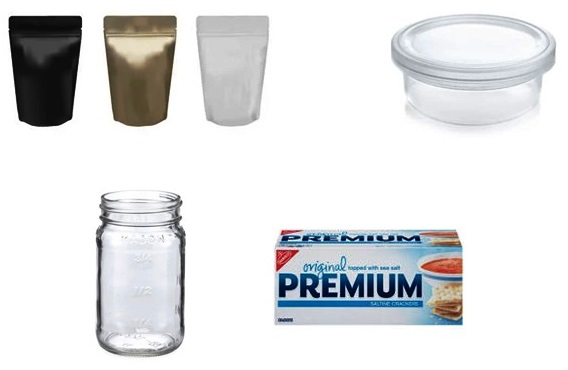 Flexible packaging is the most convenient, affordable, and appealing way to package snack foods. However, there are other ways to package snack food items. Paperboard boxes can protect snack foods in ways that flexible packaging cannot, but they are also like flexible pouches in terms of being easy to open and resealable. A downfall of paperboard boxes is that they are more costly than flexible pouches are. Another way to package snacks is to use glass containers. However, glass is not as easy, convenient, or cost-efficient to use compared to flexible packaging and paperboard boxes. There are a few pros of using glass containers though. Glass containers allow a consumer to see what exactly is in a snack food package and make a product look more "luxurious". One other way to package snacks is to use hard plastic containers, which is a form of rigid packaging. These kinds of containers are like glass containers in terms of cost and recyclability. (Industrial Packaging)
Digital printing is also making an impact on the snack food packaging industry. "Digital printing allows for high-impact graphics, bright colors, and 360 degrees of design, including images and marketing information, nutritional information and the brand story" (epac). Digital printing can improve a brand's market exponentially in terms of quality and consumer perception and recognition. The following picture from Ka-Pop is an example of a digitally printed food package item.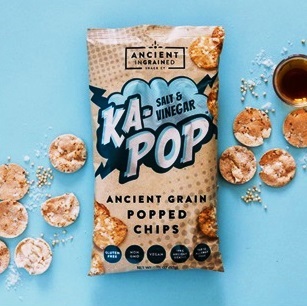 There are several types of machinery that can be used to package snack food Items. One type that is used a lot to package snacks is the vertical form fill & seal machine. A vertical form fill & seal machine can fill bags with weighed product and seal them. Snacks such as nuts and candy can be packaged by this kind of machine. According to Flexible Packaging Magazine, there are four factors that must be accounted for when buying a vertical form fill & seal machine. They are format, changeover, speed, and service. The format of the package being filled is crucial because one format does not work for all snacks. Changeover is also important because it allows multiple short orders to be completed in a more productive and time-efficient manner. The right amount of speed for this machine depends on the seal the product needs. A vertical form fill & seal machine can only provide great service if it is maintained. The following figure is a picture of this kind of machine.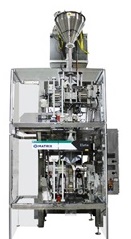 The snack food industry has increased rapidly over the past few years, especially this year due to the Coronavirus pandemic. The pandemic has caused some consumers to transition from an on-the-go lifestyle to a stay or work at home lifestyle. This has caused people to buy more snack and other food items in bulk rather than smaller sizes. According to Baking Business, "sales spiked for all pack sizes, but particularly for larger package sizes, for the period ending March 15, compared with the same period in 2019. The 10 to 16-oz pack sizes grew the most with an 87% increase in dollar sales, with 4.5 to 8-oz and larger than 16-oz increasing sales by double digits. Even the smallest pack sizes initially posted 22% growth as consumers left nothing behind on the grocery shelves." Consumers are still buying snacks, but just in bigger versions. Consumers are more likely to buy snacks based on flavor, value, quality, package design, and other factors. The pandemic has also caused consumers to explore a variety of different snack and food items due to scenarios such as scarcity in grocery stores and being bored at home. As mentioned previously, there are many reasons why snacks have become more popular and materials and methods to package snacks. A well-designed snack package makes it effortless for a consumer to open and enjoy.
References
https://vikingmasek.com/packaging-machine-resources/packaging-machine-blog/how-snackification-is-shrinking-food-packaging
https://www.packagingdigest.com/packaging-design/4-design-trends-shaping-snack-industry
https://epacflexibles.com/trends-and-opportunities-within-the-snack-food-packaging-market/
https://www.industrialpackaging.com/blog/snack-food-packaging
https://www.bakingbusiness.com/articles/51777-the-state-of-the-snack-industry-in-2020