Have you ever wondered what it would be like to have food delivered to your front door by a robot? What about the sanitary environment of your food? The average person consumes about 2,000 calories a day. The average American male consumes 1996.3 pounds of food per year. In order to keep up with those food demands, companies like Starships Technologies, have started to produce robots that can deliver food to people whether it is at their workplace or home all while maintaining a sanitary environment in dealing with the hardships of Covid-19. This article examines the revolutionary robot that may bring a change to the way food is being delivered. This new delivery technique will open a pathway for future technological advances in packaging while fighting against the impacts of Covid-19 in society.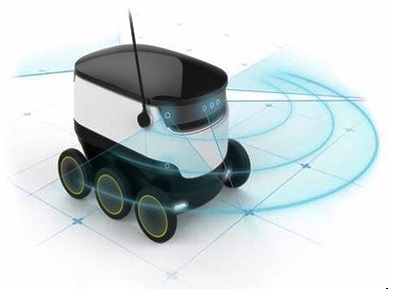 Starship Technologies' Robot
Starship Technologies, which was found in July of 2014, has made great advancements in modern-day delivery transportation. By August of 2014, the first robot prototype had already been made and two years later by August of 2016 the robot had already made encounters with one million people. One year later, service launched at the George Mason University campus. After that, nine more universities followed in the coming years. Some of the most recent ones were Mississippi State University, Arkansas State University, James Madison, and Georgia Southern University. One of their most recent accomplishments has been the completion of 500,000 deliveries. According to Starship Technologies, they are "building fleets of self-driving delivery robots designed to deliver goods locally within 30 minutes. The robots drive autonomously 99% of the time to make safe and environmentally friendly curb-side deliveries from a local hub. They also offering people convenient new services that improve everyday life." They have seen a demand due to contactless and safety benefits from their delivery service during these harsh times of the coronavirus being so contagious.
The robot is also equipped with sensors all around which include cameras, GPS, and inertial measurement unit. The robot is also safe when it comes to protecting the merchandise as Starship states, "for security, the cargo bay is mechanically locked throughout the journey and can be opened only by the recipient with their smartphone app. The location of the robots is tracked, so you know exactly the location of your order and receive a notification at the time of arrival." Starship Technologies also stated that, "the company's aim is to fundamentally reshape how goods are shipped and delivered, and make local delivery, ultimately, free. It also enables a new era of instant delivery that works around your schedule at much lower costs." The company also states that it is reliable and clean. "Thanks to our proprietary technology, Starship's local delivery system is highly efficient. As an electronically powered robot, our system is incredibly clean and incredibly green. It's both good for the planet and for your business." Starship Technologies is a better food delivery service than others in certain areas due to it being more environmentally friendly and potentially cheaper. Upon this lower cost initiative and health reliability, the company started delivering food mainly in the city of San Francisco, California, but has recently teamed up with a city in Virginia to make food deliveries during the Coronavirus.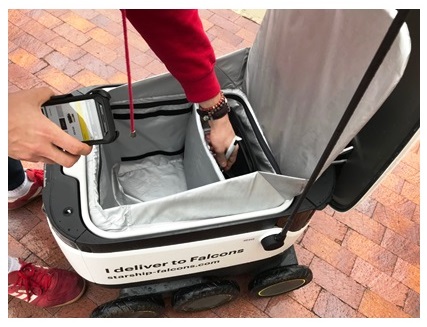 Various restaurants and grocery stores have been allowed to deliver goods through Starship Technologies' robots within a square mile area of the city. Starship will be using a fleet of twenty robots that will be functioning from 9:00 am to 10:00 pm. The delivery charge will be $2.99 and while the program is ongoing, the city is evaluating whether the program will continue after the emergency state is lifted. Currently the program has been viewed in a good way as Christopher Bruno, director of the Fairfax City Economic Development Office, said in a statement. "Starship is an important addition to the city during this time of crisis. It's an innovative new business that helps directly connect city businesses with city residents while maintaining safe social distancing," "I applaud businesses like Starship for helping to push the local economy forward while fostering innovation — something we strive for here in Fairfax City."
Cleaning protocols have also been taken into consideration. According to a report written by Mark Hand from Patch, "In Fairfax City, after each delivery, the robots get wiped down to avoid spreading the coronavirus." Making it even safer for people to interact with the robot without having to worry about the virus. The robot is also insulated so that the food being delivered can remain hot or cold, and the quality will not be affected. After the order is placed, the delivery time is roughly 15 and 45 minutes in Fairfax City. Even the vice president of the company views this program as a great opportunity to expand the ways to keep the people safe. He states, "There is huge demand for contactless delivery now and our robots are an ideal way for residents to get what they want delivered to their door while supporting local businesses."
The coronavirus outbreak has brought a drastic change in our everyday life. Change that we need to adapt to in order keep living a normal life. Starship Technologies has opened a pathway for engineers and many others to find better ways to transport goods and provide a safe and healthy service. They have also provided a cheaper alternative when it comes to delivering while making sure that the quality of the goods is not affected in that transportation. Not only have they incorporated a minimalistic yet complex design, but they have incorporated complex technology to make the robot work and arrive at the customer's destination while making security a top priority as well. Starship Technologies may only be the beginning of future methods of transportation while saving the customer money.
References
Sloat, S. (2017, November 21). How Much Do Humans Eat? A Scientific Scientific Breakdown By the Numbers. Retrieved November 14, 2020, from https://www.inverse.com/article/38623-pounds-of-food-united-states-calories
A new kind of business. (n.d.). Retrieved November 14, 2020, from https://www.starship.xyz/business/ Hand, M. (2020, April 17). Robots Make Food Deliveries In Virginia During Coronavirus. Retrieved November 14, 2020, from https://patch.com/virginia/fairfaxcity/robots-make-food-deliveries-fairfax-city-during-coronavirus
Korosec, K. (2020, April 09). Starship Technologies is sending its autonomous robots to more cities as demand for contactless delivery rises. Retrieved November 14, 2020, from https://techcrunch.com/2020/04/09/starship-technologies-is-sending-its-autonomous-robots-to-more-cities-as-demand-for-contactless-delivery-rises/
Wolfe, E. (2019, October 22). Everything we know about the Starship food delivery robots. Retrieved November 14, 2020, from https://pittnews.com/article/149994/news/starship-food-delivery-robots/